2020 CALLS
ENG
TRK
AMB
JAN
135
37
216
FEB
106
16
169
MAR
APR
MAY
JUN
JUL
AUG
SEP
OCT
NOV
DEC
Total
241
53
385
2019 CALLS
ENG
TRK
AMB
JAN
FEB
MAR
APR
MAY
JUN
188
39
212
JUL
156
15
210
AUG
156
42
256
SEP
648
32
188
OCT
191
0
210
NOV
153
0
753
DEC
214
105
219
Total
1706
233
2048
Web Counters
Website Visitors
Since
January 1, 2011

Visitors Today
Dec 02, 2020

If You have a community event you would like us to attend
communityrelations@beltsvillevfd.com
---
Santa Tour 2020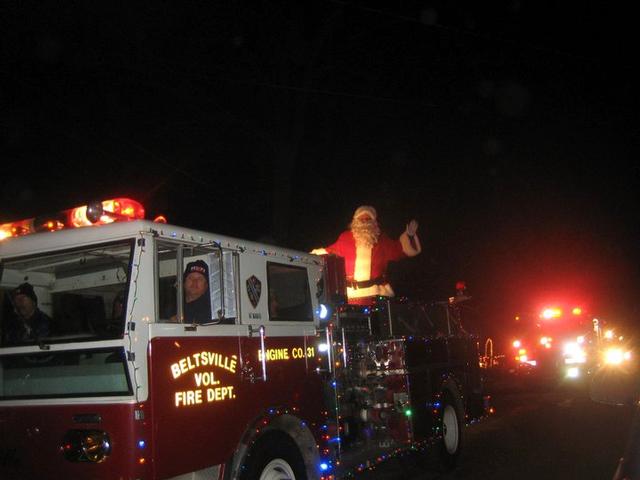 Photo curtesy of Billy McNeel

Engine and Deputy Chief Operate on Large Wooden Trailer Fire

Deputy Chief Mike Montieth, November 03

Around 1548 Engine 313 and Deputy Chief 31A responded to the 11700 Block of Old Baltimore Pike for the report of a Large wooden enclosed office trailer on fire to the rear of the Old Briarly Military Academy. First arriving units on scene reporting it fully involved. Units had to overcome some obstacles as the office trailer was located approximately 1,000 feet off the road in the woods. Crews did ... (Full Story & Photos)


Meet Our Newest Full Member

Member Chris Scheer, August 24

At our first, socially distanced, membership meeting in quite a while Steve Hamrick was sworn into full membership after completing his probationary period with the Beltsville VFD.

Not new to the fire service, Steve brings a wealth of knowledge and experience from his prior fire service experience within Prince George's County. In addition to being a licensed Emergency Medical Technician, Steve ... (Full Story & Photos)


Photo courtesy Billy McNeel

Truck 31 Runs House Fire in Branchville

Deputy Chief Mike Montieth, August 13

Shortly after 3:00 this afternoon, Truck 31 was dispatched as the 2nd due truck (search company) for the reported house on fire in the 9700 Blk of Narragansett Pky in Co. 11s area. The truck arrived and controlled the utilities then searched the basement and first floor.
First Due Apartment Fire

Chairman of the Board Al Schwartz, July 12

Early this evening Engine 313 was dispatched to the 11200blk of Evans Trail in Beltsville units arrived to find fire showing from the second floor. ... (Full Story & Photos)

BVFD MOURNS PASSING OF LIFE MEMBER

Member Chris Scheer, June 01

The Beltsville Volunteer Fire Department is sad to announce the passing of Life Member Harry Stephen "Hump" Flora.

Steve joined the department in 1966 and was a dedicated member for over 50 years. Steve was one of the top emergency responders year after year. For the last 10 years Steve was frequently seen staffing the ambulance, serving the citizens of Beltsville.

The viewing and service will ... (Full Story & Photos)

FIRST RESPONDER CARE KITS DELIVERED TO BVFD

Member Chris Scheer, May 12

Thanks to Chelsea and Bev Hunt, of Burtonsville, for making and sending "Light of Love" care kits for the first responders at Beltsville VFD.

Using money donated by family and friends the Hunts assembled these packages of healthy Shaklees products. Each Care Kit contains a meal bar, energy bars, an energy chew, a pomegranate tea packet, and a immunity supplement. To support and thank all those ... (Full Story & Photos)



Photo Credit PGFD PIO

First Due Working Fire

Probationary Firefighter Steven Hamrick, May 11

On Sunday 5/10/20 crews from Beltsville and the surrounding area were alerted to a house fire with multiple callers on Olympia Avenue. Leaving the station crews could see the column of smoke coming from the Beltsville Heights area. The engine crew arrived on scene and rapidly placed a line in service to begin firefighting efforts. The fire was shortly extinguished. Luckily no occupants or firefighters ... (Full Story & Photos)


Crews Run Branchville House Fire

Deputy Chief Mike Montieth, May 02

On Saturday, crews from 31 were alerted to a house fire on 51st Ave. in Branchville, Md. We responded with the Engine (3rd due) with 5, Truck (2nd) with 5 and the Deputy Chief. Upon arrival, Engine 31 advanced a line to assist with suppression operations, Truck 31 conducted a primary search and took care of the electric while Chief 31A had the Division 1 (first floor) supervisor. The fire was quickly ... (Full Story & Photos)



Photo courtesy Branchville VFC.

Your feedback is important to us! Feel free to sign the guestbook.